Overview
The ISFL is a multilateral facility that promotes and rewards reduced greenhouse gas emissions and increased sequestration through better land management, including reducing emissions from deforestation and forest degradation (REDD+), climate-smart agriculture, and smarter land-use planning and policies.
The ISFL aims to catalyze the development of a low-carbon rural economy in each of its program areas that will simultaneously result in livelihood opportunities for communities and an overall reduction in land-based emissions.
Four design pillars guide the ISFL's overall objective to reduce GHG emissions, while addressing poverty and unsustainable land use.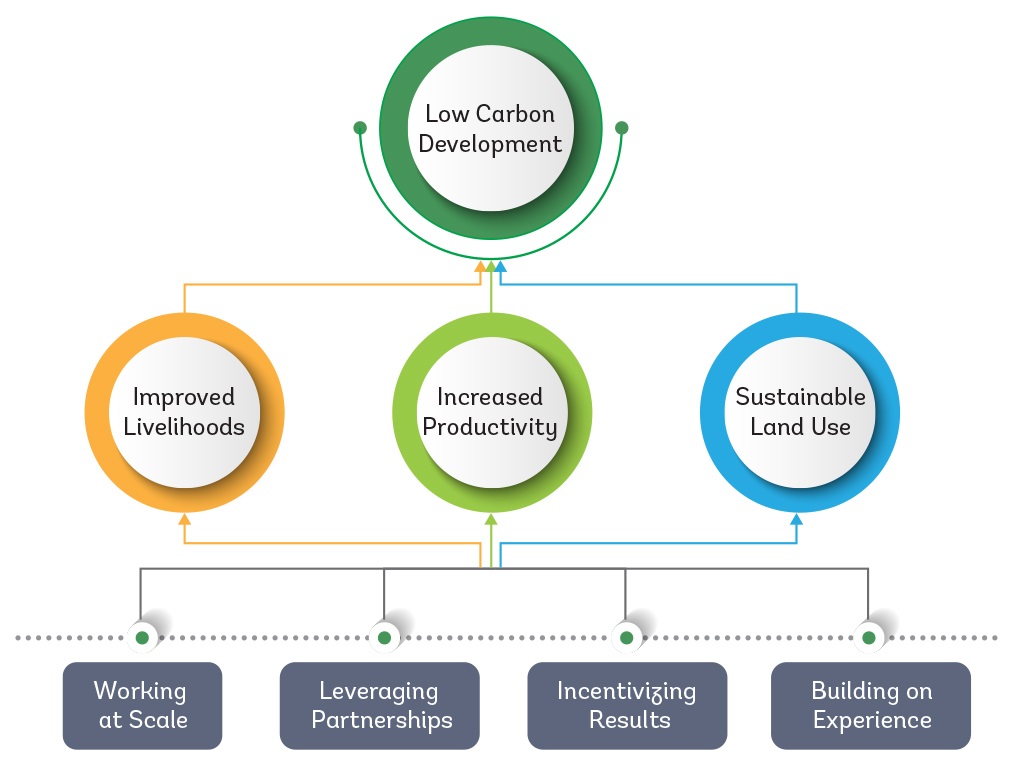 Pillars
WORKING AT SCALE
Each ISFL program focuses on an entire jurisdiction (state, province, or region) within a country, which provides programs with the opportunity to engage with multiple sectors affecting land use and increase program impact over a relatively large area.
The ISFL uses a landscape approach in each jurisdiction, which requires stakeholders to consider the trade-offs and synergies between different sectors that may compete in a jurisdiction for land use—such as forests, agriculture, energy, mining, and infrastructure. In doing so, solutions can be identified that serve multiple objectives and influence a variety of sectors.
The goal of the landscape approach is to implement a development strategy that strives for environmental, social, and economic impact at scale. This is done by targeting interventions to improve the enabling environment1 for sustainable land use. Improvements in the enabling environment such as participatory forest management and land-use planning can have a significant impact on how land is used and can benefit communities across a jurisdiction.
LEVERAGING PARTNERSHIPS
To reduce greenhouse gas (GHG) emissions from land use across an entire jurisdiction while simultaneously creating livelihood opportunities, the ISFL partners with other public and private sector actors on similar initiatives. Public-private partnerships are essential to mobilize capital and align objectives to create sustainable and scalable models for long-term improved land use.
In particular, private actors—from subsistence farmers to global, multinational firms—have significant influence on the way land is used. The ISFL works closely with the private sector to provide livelihood opportunities for communities in each jurisdiction and mobilize finance for critical investments. This engagement can take several forms, from collaborating on sustainability approaches, to blending finance in-country, to convening stakeholders to work toward complementary goals.
At the international level, the ISFL works with global forums of companies that have pledged to reduce their impact on tropical forests to help identify pathways to enact these commitments. The ISFL is exploring opportunities to engage the private sector in the agriculture, energy, and finance sectors, among others, where that sector has a significant impact on landscapes within a jurisdiction.
INCENTIVIZING RESULTS
By tackling the complex challenges of convening public and private actors and creating an enabling environment for sustainable development, countries can expect to generate results—including a reduction in greenhouse gas (GHG) emissions. To incentivize countries to reduce GHG emissions, the ISFL aims to provide significant results-based climate finance over a period of 10 years through the purchase of verified emission reductions.
BUILDING ON EXPERIENCE
The ISFL reflects the demand for progression from relatively small-scale pilot projects to a program aimed at incentivizing sustainable land use at scale. To do this effectively, the ISFL builds on the experiences and lessons learned through the BioCarbon Fund's initial work piloting land-use projects, REDD+ initiatives, and other sustainable forest and land-use programs.
The ISFL also leverages national REDD+ readiness work of the Forest Carbon Partnership Facility (FCPF) and the UN-REDD Programme, which have created essential institutional infrastructure for large-scale land-use programs, including:
Accountable and transparent program management arrangements;
Clear operating mandates;
Multisector coordination mechanisms and cross-sector collaboration;
Technical supervision capacity;
Funds management capacity; and
Mechanisms for feedback and grievance redress.
This streamlined approach allows the ISFL to concentrate its efforts and activities at the jurisdictional level, adding value to existing platforms, while avoiding the duplication of existing processes.
The World Bank's BioCarbon Fund
Established in 2004, the BioCarbon Fund has been at the heart of linking carbon finance and sustainable land use over the last decade. It was the first carbon fund established in the world to focus on land use, piloting the first Afforestation/Reforestation, Reduced Emissions from Deforestation and Forest Degradation (REDD+), and Sustainable Agricultural Land Management (SALM) activities at the project scale.
These first experiences have provided a wealth of knowledge on how to quantify emission reductions from different land-use activities and have helped pave the way for other land-use carbon initiatives that have followed. BioCarbon Fund pilots have also generated a wealth of knowledge on land tenure issues, financing arrangements, and benefit-sharing schemes that are essential for the long-term success of these initiatives.
Today, there is a huge network of governments, businesses, civil society, and local communities working to advance the land-use carbon agenda internationally. The ISFL aims to contribute to this momentum by creating a portfolio of programs that will promote sustainable agriculture, forestry and smarter land-use practices in an integrated approach.
Theory of Change
The ISFL theory of change presents the logic behind ISFL interventions and sets out how they will lead to targeted objectives. The interventions are derived directly from the four ISFL design elements and their multilevel objectives are further broken down into different operational and strategic elements for effective monitoring and evaluation.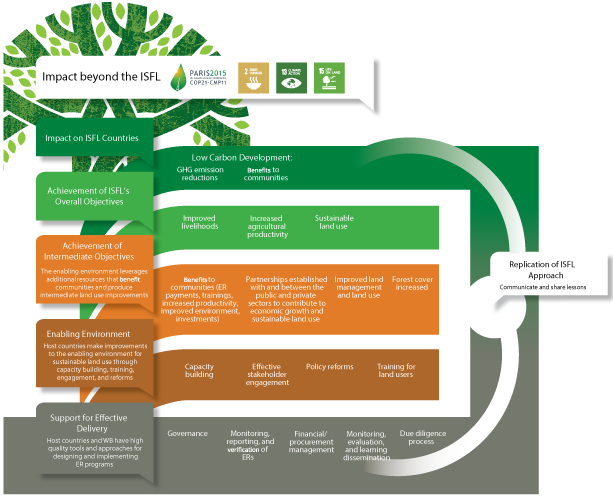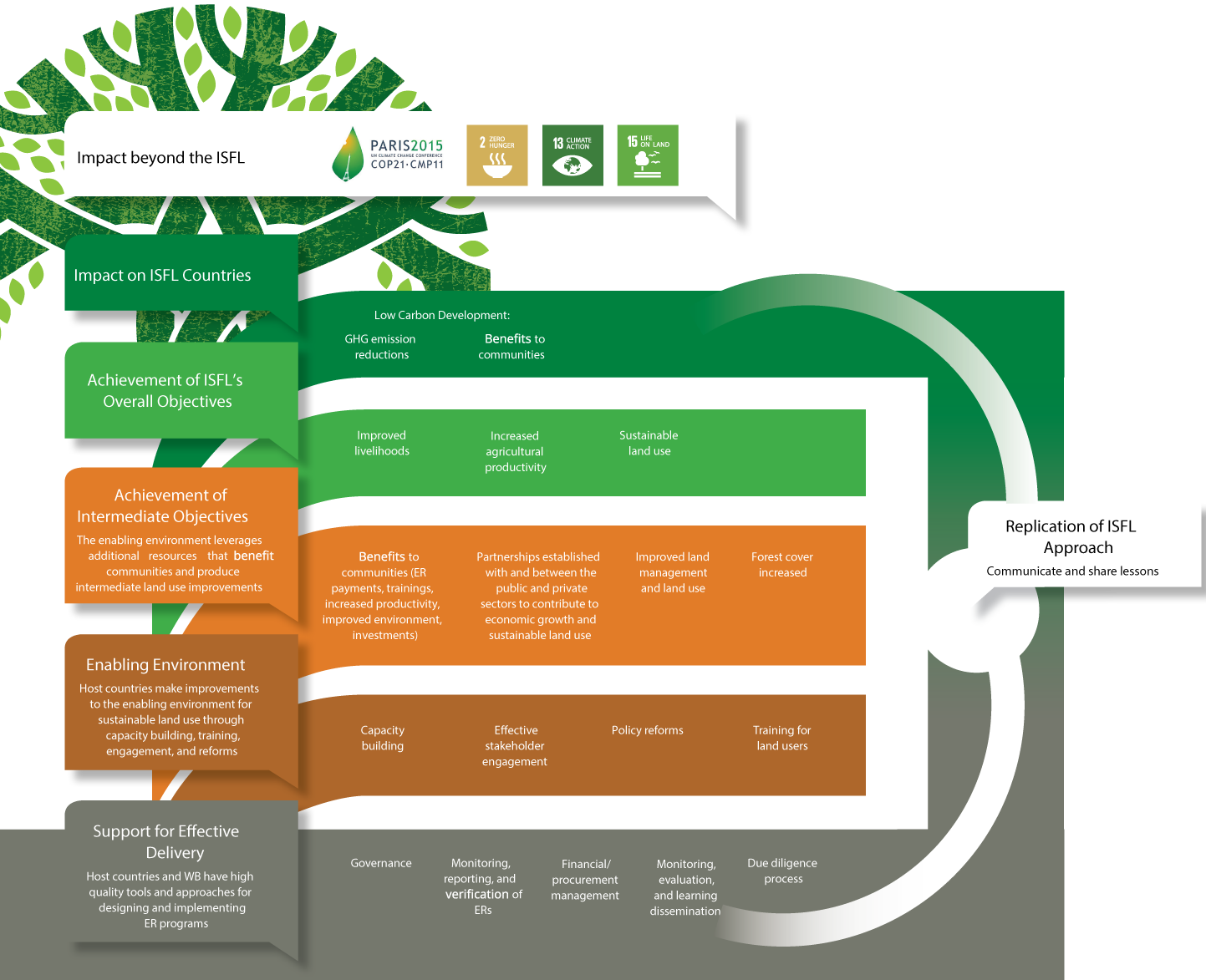 ISFL aims to help rural communities address poverty and develop sustainably while simultaneously reducing land-based greenhouse gas emissions. To accomplish these goals, ISFL programs seek to build on experience, leverage partnerships, incentivize results, and emphasize working at scale.