Financing Strategies
Overview
Large-scale, long-term programs require sustainable and secure financing from a variety of sources. However, most integrated land use initiatives are dependent on local and international public finances, and have limited investment from the private sector. This is largely because the public benefits from integrated land use initiatives are difficult to monetize. Limited capacity for risk assessment for political, socioeconomic, market, weather, and climate risks, and lack of mitigation instruments create additional barriers. There is still significant potential for expansion into private sector investment, particularly as companies continue to move toward more sustainable business practices. Effective integrated land use programs often make use of their limited resources to identify ways to crowd in new private sector financing, and enable local actors to adopt more sustainable land use practices.
Key Elements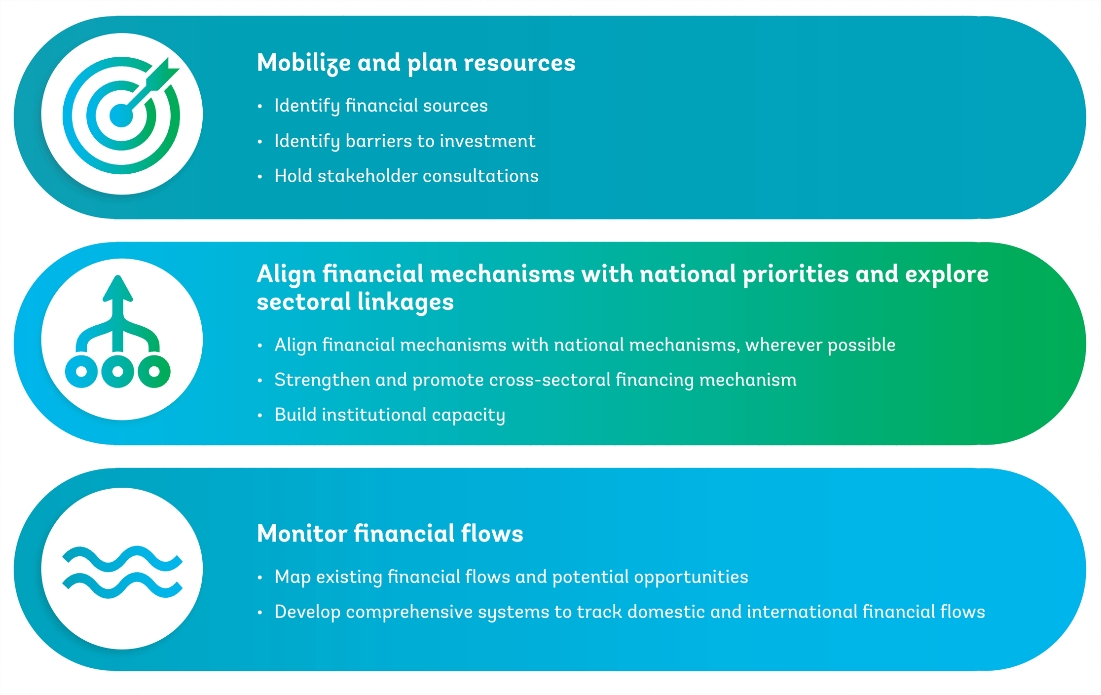 Best Practices
BLENDED FINANCING: Mobilize both public and private sector financing to ensure the long-term financial sustainability of the program.
ALIGN FINANCING MECHANISMS WITH NATIONAL AND SUBNATIONAL PRIORITIES: Fit integrated land use initiatives into existing climate change and development strategies to improve policy coherence, foster cross-sectoral coordination, and help ensure financial sustainability.
ROBUST MONITORING OF FINANCIAL FLOWS: Help strengthen institutional capacity to ensure robust monitoring of financial flows so that goals can be tracked, funds can be redistributed as necessary, and investors will feel more confident contributing to the initiative.
Resources
Landscape Assessment of Financial Flows (LAFF) Methodology
Developed by Tropenbos International and EcoAgriculture Partners, the LAFF methodology is an extension of the Landscape Investment and Finance Toolkit (LIFT). LAFF aims to help stakeholders identify sources of financing for new investment ideas, and to understand if the financial system in a landscape is adequately supporting the integrated land use initiative. The objective of LAFF is to facilitate the identification and characterization of the most significant flows of finance that support landscape initiatives. The other guiding principles of LAFF's methodology include building stakeholder capacity to understand: 1) financial flows related to their landscape; 2) the primary sources and recipients of investment; 3) the use and purpose of investment; and 4) the impact of investments. The methodology includes engaging stakeholders who provide financing. It also provides information on elements of financial governance.
Authors: Seth Shames, Bastiaan Louman, and Sarah Scherr
LAFF is available at: https://ecoagriculture.org/publication/the-landscape-assessment-of-financial-flows/
Landscape Investment and Finance Tool (LIFT)
Developed by EcoAgriculture Partners, together with IUCN's National Committee of the Netherlands, LIFT is a three-stage process to help program managers find the right investors and create pitch material to approach them.
Authors: Seth Shames, Sara Scherr, Jan Willem den Besten Available at: https://ecoagriculture.org/publication/the-landscape-investment-and-finance-toolkit/