result stories
How Colombian farmers are achieving inclusive and sustainable low-carbon agriculture
How Colombian farmers are achieving inclusive and sustainable low-carbon agriculture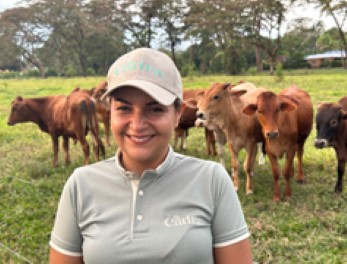 In Colombia's resource-rich Orinoquia region, farmers across a wide range of agricultural sectors are advancing sustainable, low-carbon production models that are improving livelihoods, social inclusivity and forest protection.
With support from the World Bank's BioCarbon Fund Initiative for Sustainable Forest Landscapes (ISFL) and partners, producers in the rice, cocoa, palm oil, livestock, cashew and commercial forestry sectors are using sustainable agricultural practices that are contributing to tangible emission reductions in the Orinoquia region. 
These practices are also helping to attract other smallholder producers, including women and youth, to adopt climate-smart agricultural approaches. 
Fostering inclusivity in sustainable cattle ranching
La Catira, a dairy company in the region, is actively promoting sustainable cattle ranching among its suppliers. The company has a training center for livestock producers, including women and young people, to learn about sustainable practices in the sector.
"In this region, there is so much to do and so much to learn. The BioCarbon (ISFL) Project has made for a two-way learning pathway… now, we have more technical information for sustainable agriculture," says Sandra Valero, manager of La Catira.
Sandra Valero, manager of La Catira dairy company in the Orinoquia region's Meta department

 

Young dairy farmer, Juan Sebastian Piñeros, together with members of the Cofegan Cooperative women's group

 
This knowledge exchange is attracting young people, who left for employment in bigger cities, to return to the countryside and hedge their bets on agriculture. By being able to access resources, including the hands-on training offered by La Catira, several young farmers have shown interest in sustainable agricultural practices.
"The importance of these initiatives is that they can offer knowledge to young people to stay in the field to embark on more productive and sustainable projects," says Juan Sebastian Piñeros, a young man who works on his parents' farm and is attending La Catira's training sessions.
The ISFL Project in Orinoquia has also helped to promote women's agricultural alliances and cooperatives, such as the Cooperativa Femenina Ganadera los Alpes (Cofegan), which has come together to promote sustainable livestock management. 
"At the beginning it was very hard because we did not have the knowledge and we were afraid to even speak. Today, we speak openly about our cooperative and the results of our project. The community that used to criticize us, already sees us empowered and capable of getting ahead and that gives us and our families great satisfaction," says Angela, a member of Cofegan. 
Beyond cattle ranching, cashew and commercial forestry producers are creating inclusive employment opportunities in Orinoquia, which include native and Indigenous communities. Some of the farms are located near the border with Venezuela, so they also employ migrants.
 
The Big Picture
Agricultural land use is one of the largest contributors to greenhouse gas (GHG) emissions. In Colombia, livestock, oil palm, and rice are the three largest contributors of these emissions, by way of methane gas emissions. However, research and practice have shown that they are also part of the solution. 
Together with the Global Environment Facility's (GEF) Sustainable Landscape Project in Orinoquia, the ISFL initiative is helping farmers and agribusiness to:
Sustainably increase agricultural production;
Integrate biodiversity considerations;
Improve the management of protected areas; and
Realize the region's potential to become a low-carbon food basket for the country. 
The next phase of the ISFL project will seek to bring small, medium, and large producers to the international carbon market through a jurisdictional Emission Reductions Program. 
The ISFL Project in Orinoquia has proven a promising pilot scheme that demonstrates pioneering sustainable production initiatives to the region and beyond. The ultimate goal is to apply and scale up what has successfully been done in Colombia in other parts of the world. 
 
More on Orinoquia's engagement in sustainable land use:
Colombia's ISFL Program
ISFL's 2022 Annual Report
Video: World Bank's 2023 mission to Colombia's Orinoquia region
Photo credit: Jairo Bedoya/World Bank