result stories
Sustainable Cattle Ranching in Colombia Gets Boost From Global Investment Fund
Sustainable Cattle Ranching in Colombia Gets Boost From Global Investment Fund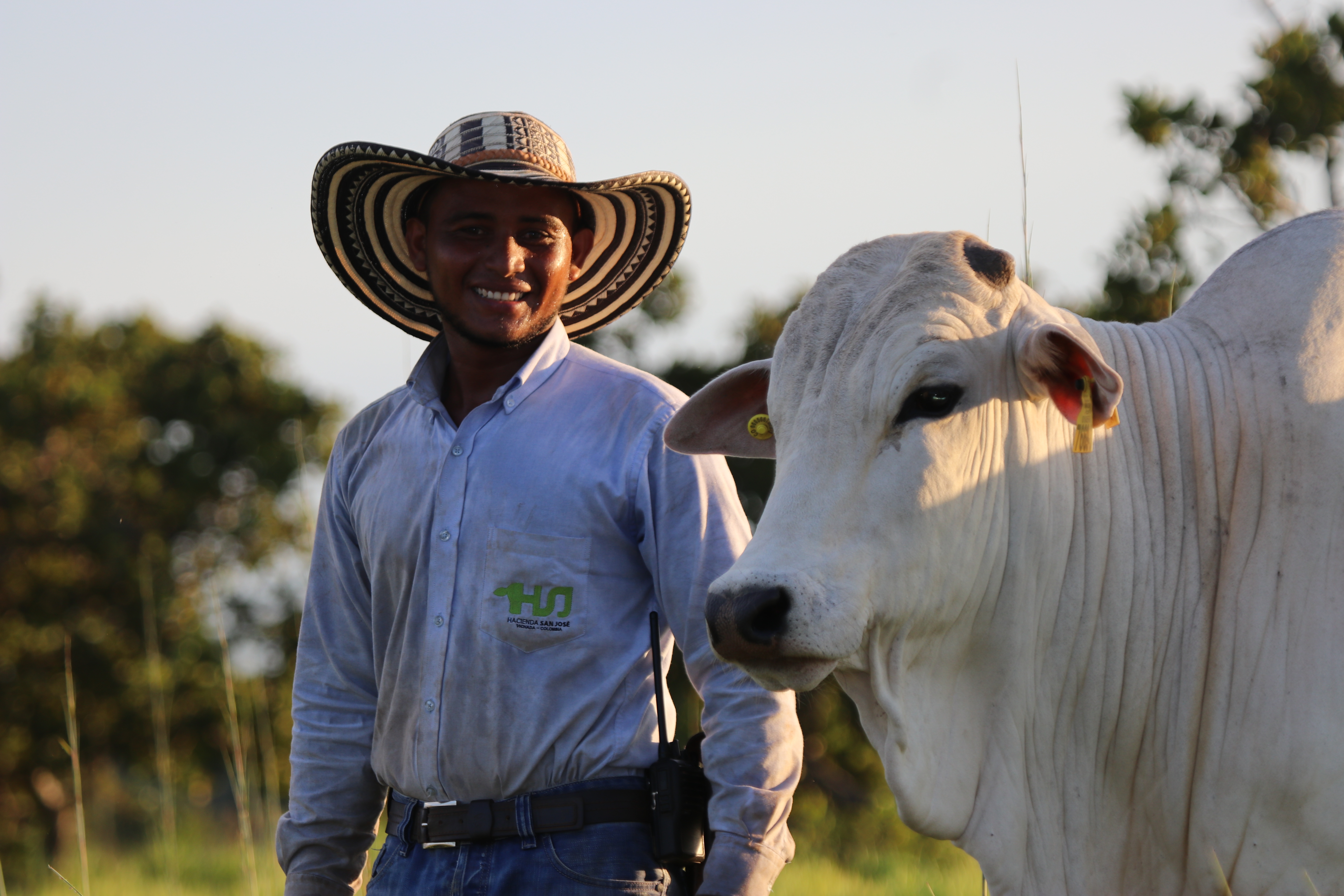 Sustainable cattle ranching in Colombia gets boost from global investment fund
Hacienda San José, a leading agribusiness in Colombia, has recently been added to &Green's innovative portfolio of investments in sustainable agriculture.
With &Green's backing, Hacienda San José aims to significantly expand its sustainable

cattle farming

operations and has committed to protect and restore up to 27,000 hectares of tropical forests in Colombia's Orinoquía region.
The World Bank's BioCarbon Fund Initiative for Sustainable Forest Landscapes and the International Finance Corporation have been working with Hacienda San José since 2019 to scale up its sustainable cattle farming operations.
&Green's recent investment underscores how the ISFL and IFC's private sector capacity building is helping companies to unlock new investments in climate-smart agriculture and sustainable forest landscapes.
In Colombia's fertile and biodiversity-rich Orinoquía region, agricultural expansion – including the expansion of areas for cattle grazing – remains the main driver of deforestation, ecosystem degradation and related carbon emissions from land conversion.
To tackle this issue head on, the World Bank's BioCarbon Fund Initiative for Sustainable Forest Landscapes (ISFL) program in Colombia has developed innovative ways of engaging with cattle ranching-dependent local communities and the private sector to improve the sustainability of Colombia's agricultural sector.
One of the most successful of these initiatives has been the ISFL's ongoing partnership with Hacienda San José – a leading agribusiness operating in Colombia's Orinoquía region. Since 2019, Hacienda San José has collaborated with the World Bank Group's International Finance Corporation (IFC) with the financial support of the ISFL to build a deforestation-free and more sustainable beef supply chain.
Through this partnership, the IFC has helped Hacienda San José to conduct several foundational studies, including a greenhouse gas assessment, an economic feasibility analysis, and a land protection plan. These studies are helping the company to transition to a climate-smart livestock supply chain and improve production standards.  
This work has also catalyzed new global and national partnerships for Hacienda San José, including with the International Center for Tropical Agriculture, the Tropical Forest Alliance, The Nature Conservancy, the World Wildlife Fund, as well as with Colombia's Center for Research on Sustainable Systems of Agricultural Production (CIPAV) and EcoSocial Projection Foundation.
"Colombia is the third largest beef producer in Latin America and the Caribbean, so we know that sustainable cattle ranching needs to be a key component of any effort to reduce deforestation and related carbon emissions in the Orinoquía region. Hacienda San José has been a remarkable company to work with over the past three years," says Dieter Fischer, Senior Operations Officer at IFC.  
Unlocking new streams of climate-smart investment
The years of preparation and investment in Hacienda San José's sustainable cattle ranching operations have recently paid off. In February, Hacienda San José became the first company in Colombia to be welcomed into &Green's global portfolio of investments in deforestation-free agricultural production. &Green is a social impact fund with a prestigious list of contributors, including the Governments of Norway and the UK, the Global Environment Facility, the Ford Foundation, and Unilever.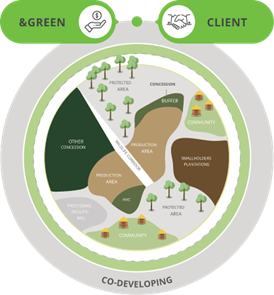 In line with the ISFL's work, &Green takes a landscape approach to its investments that actively engages with local communities, producers, investors, supply chain companies, local and national governments and civil society to scale up sustainable agriculture. (Source: &Green website)
Over the next 12 years, &Green has committed to invest $7.5 million in Hacienda San José's climate-smart livestock operations, with the goal of developing a blueprint for the transition to a sustainable, deforestation-free cattle sector across Colombia.
With &Green's backing, Hacienda San José aims to expand its sustainable cattle farming operations to over 180,000 hectares in the Orinoquía region, and has committed to the protection and restoration of up to 27,000 hectares of tropical forest. The project objectives also include fostering social inclusion, employment creation, community engagement and the sharing of data, knowledge and lessons learned to encourage positive change in the cattle industry.
"&Green's investment signals an encouraging, growing interest among the global investment community in sustainable, climate-smart businesses. This is a great example of ISFL's private sector engagement strategy in action, where we pilot, promote and support businesses to adopt sustainable practices, which attract additional funding and support from domestic, regional and international financiers, creating a virtuous cycle of adopting sustainable and low carbon business models," says ISFL Fund Manager Roy Parizat.
Moving forward, Hacienda San José plans to develop a framework for value chain restructuring across the cattle ranching sector and scale up investment opportunities within the framework through several financial instruments. With continued support from the IFC, ISFL and &Green, Hacienda San José aims to be the catalyst of a broader sustainable transformation in the Orinoquía beef value chain.
Learn more on Colombia's ISFL Program