result stories
World Bank Releases Innovative Global Study on Integrated Land-Use
World Bank Releases Innovative Global Study on Integrated Land-Use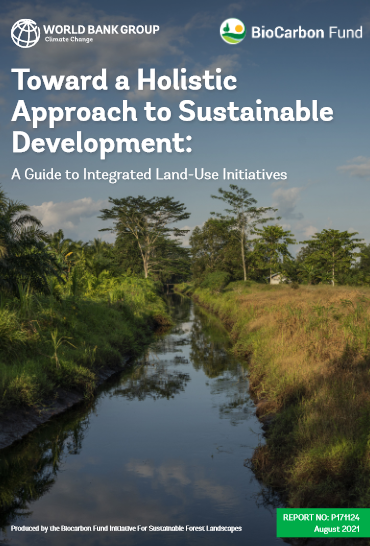 World Bank Releases Innovative Global Study on Integrated Land-Use
As governments, companies, NGOs, and communities around the world try to mitigate and adapt to climate change, while conserving biodiversity and improving livelihoods, they are seeing that single-sector approaches are insufficient to achieve these goals.
Recognizing this, many actors have started to implement integrated land-use initiatives that take a holistic, multi-sector approach to addressing complex environmental and development challenges. Such approaches seek to sustainably manage multiple land uses across landscapes, considering both the natural and human systems that depend on them, and explicitly designing programs which recognize the interrelatedness between different sectors.
The number of these types of initiatives has grown substantially over the last decade, leading to a wide array of approaches, a lack of comprehensive information on the range of possible methods, and a somewhat limited consensus on concepts, terms, and best practices. 
The World Bank's BioCarbon Fund Initiative for Sustainable Forest Landscapes (ISFL) has recently released a first-of-its-kind report that takes stock of a variety of best practices and lessons learned from more than 150 integrated land-use initiatives implemented around the world. The goal of this study is to facilitate knowledge sharing, and provide a guide for practitioners who are looking to implement integrated land-use approaches or make existing initiatives more holistic.
"Integrated land-use offers a holistic approach to sustainable development by challenging practitioners to look beyond traditional, sectoral development projects and instead engage with the complexity of entire landscapes," says Bernice Van Bronkhorst, Global Director of Climate Change in the World Bank's Sustainable Development Practice Group.
"When implemented at scale, integrated land-use initiatives can help countries meet the Sustainable Development Goals and realize their Nationally Determined Contributions under the Paris Climate Agreement," she adds.
The ISFL study, entitled "Toward a Holistic Approach to Sustainable Development: A Guide to Integrated Land-Use Initiatives", identifies eight themes as being the most significant for the success of integrated land-use initiatives.
Multistakeholder engagement: Integrated land-use initiatives require the collaboration of a diverse range of stakeholders with different, often competing interests. Stakeholder engagement is an ongoing, iterative process vital to all stages of integrated land-use initiatives.
Environmental focus: Integrated land-use initiatives provide a unique opportunity to meet environmental objectives at the local level while also contributing to national commitments.
Economic focus: Integrated land-use practitioners need to understand the economic incentives that lead to degradation and find ways to improve the livelihoods of the people who depend on these resources. This can be done by developing robust mechanisms that reward communities for contributing to sustainability and conservation.
Boundary setting: Defining the geographic borders of an integrated land-use initiative is foundational. These boundaries determine where the initiative is implemented, who is involved, and how it will be governed.
Land tenure: While it is not feasible for integrated land-use initiatives to undertake land tenure reform independently, these initiatives can and should work toward developing practical solutions to land tenure challenges.
Financing strategies: Effective integrated land-use programs identify ways to crowd in new private sector financing to ensure sustained funding at all stages of the initiative, and enable local actors to adopt more sustainable land-use practices.
Monitoring, evaluation, and learning: Developing cost-effective and participatory monitoring and evaluation methods is key to measuring the success of initiatives and enabling adaptive management.
Cross-sectoral coordination: Enabling effective coordination and collaboration between sectors is key to the success of integrated land-use initiatives. Clearly defining stakeholder roles and responsibilities, and building more effective planning instruments help to yield positive outcomes across these initiatives.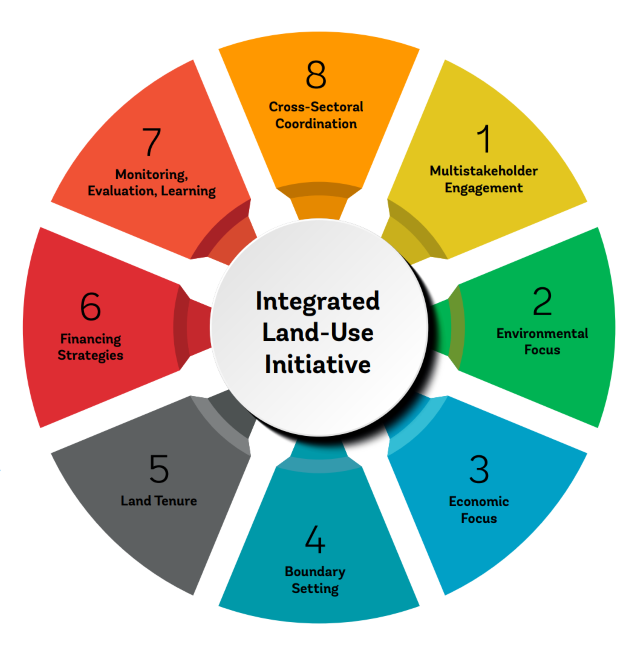 Mirroring the participatory and inclusive nature of integrated land-use initiatives, the eight themes highlighted in the ISFL report were identified through a series of consultations with practitioners and experts in integrated land use, along with a comprehensive analysis of the evolving best practices from more than 150 initiatives worldwide. Other themes that emerged in the study as essential elements in many integrated land-use initiatives include technology, governance, adaptive management, and policies.
"Our research shows that the chance for success improves as more of these themes are considered and included in the planning and implementation of integrated land-use initiatives," says Kilara Suit, Carbon Finance Specialist, at the World Bank. "This report provides an essential toolkit for practitioners and raises awareness of the cutting-edge work happening in this space," she adds.
As a companion to the report, the ISFL has also published a Resource and Case Studies Booklet. This booklet presents a compendium of case studies and resources to show how integrated land-use initiatives have worked in practice. It also provides practitioners with the tools necessary to adapt the lessons and approaches presented in the guide to the specific needs of the people and landscapes with which they work.
Over the next six months, the ISFL is planning a series of global workshops and events to raise awareness among land-use practitioners about the study's findings, and facilitate a more coordinated global approach to sustainable land use in the years to come.